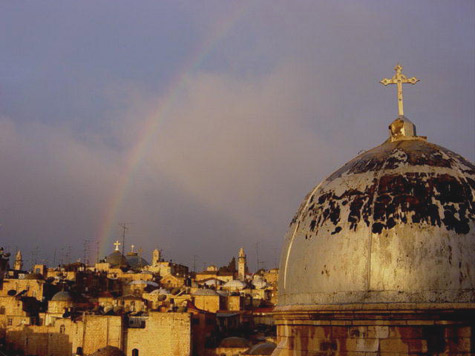 Sunrise from our apartment balcony on Via Dolorosa looking out toward the Church of the Holy Sepulcher.
I wanted to extend a personal greeting to those of you joining Gary and me in Israel via the Journal. The media may paint a bleak picture of life here, but I hope to give you an up-close perspective from our apartment located deep in the heart of the Muslim Quarter and high above the Old City of Jerusalem. My past fourteen years in Israel have been only a prelude to what is shaping up to be more home than our U.S. address, so your correspondence by e-mail is that much more appreciated. Our time in the States is usually limited now to about two months in the winter and two in the summer during which time we are crossing the country speaking to church/home groups about life in Israel, plus visiting family and friends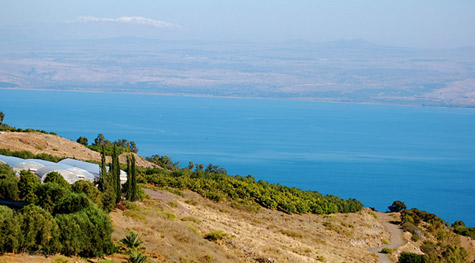 Rural hillsides roll down to the Sea of Galilee from the western ridge
Gary and I split each week between our rooftop perch in Jerusalem and our home above the Sea of Galilee located in a small Jewish village, where life is very different from the press of the challenges and dynamics in the Old City. Both places afford us the joy of sharing our table with residents and visitors. One day, that visitor may be you!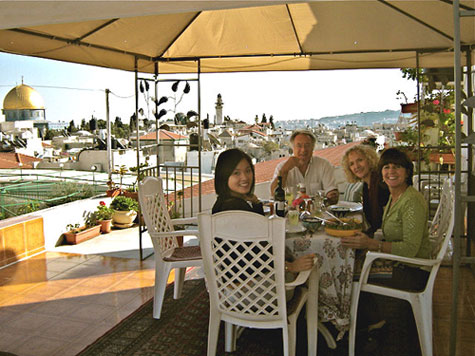 Friends enjoy a lunch on our terrace with the Temple Mount and Dome of the Rock in the background. There is an empty chair for you at our table…always.
The journals have allowed me to show readers what I'm seeing here, along with encouraging insights crafted to make you thirsty to visit this land yourself, so stay tuned for the next issue. One of the greatest joys is actually hearing about a reader's upcoming trip to Israel and being able to welcome them in person. If you appreciate Jerusalem Journal and want to let others know about it I would love to add your friends to my email list. It has been a wonderful way to establish new friendships. Please keep in touch with any questions and comments. If, for any reason, the photos don't come through, please let me know. They are an important part of the message. Excited to have you on the journey with me!

Enjoying the walk home,

Cindy
Jerusalem Journal Subscription
Subscribe to our Jerusalem Journal email here!