The Writers Gathering 2017 Participants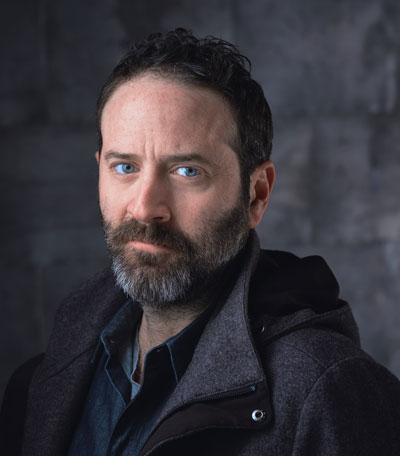 Dan O'Brien
Playwright, Poet, Librettist
"Visiting Israel has been a lifelong dream of mine. I was raised without much formal religion, but my family was certainly Irish Catholic in a cultural sense; questions of morality, mortality, spirituality—and the history and politics of these questions—have always concerned and inspired me as a writer."
Dan O'Brien's plays include The Body of an American (Primary Stages, New York; Gate Theatre, London), The House in Scarsdale (The Theatre @ Boston Court), The Cherry Sisters Revisited (Actors Theatre of Louisville's Humana Festival), The Voyage of the Carcass (Page 73 Productions), The Dear Boy (Second Stage Theatre), and many others. His playwriting awards include a Guggenheim Fellowship in Drama & Performance Art, the Horton Foote Prize for Outstanding New American Play, the inaugural Edward M. Kennedy Prize for Drama, the PEN Center USA Award for Drama, and the L. Arnold Weissberger Award. Fellowships and residencies include the New Harmony Project, the O'Neill National Playwrights' Conference, the Sundance Theatre Lab, the Rockefeller Foundation's Bellagio Center, the Hodder Fellowship at Princeton University, the inaugural Djerassi Fellowship at the University of Wisconsin-Madison, and the Tennessee Williams Fellowship at the University of the South. His plays are published by Samuel French, Oberon, and Playscripts. Dan O'Brien: Plays One was recently published in 2017 by Oberon Books in London (distributed in the US by Theatre Communications Group in 2018). O'Brien is also a librettist and an award-winning poet whose collections, War Reporter, Scarsdale, and New Life are published in the US and the UK. Currently working on New Life, a documentary/memoir play about my friend, war reporter Paul Watson, his experience covering the war in Syria, our attempts to pitch said experiences as an American cable TV drama, as well as my recent treatment for cancer. The play is supported by a Guggenheim Fellowship and commissioned by Center Theatre Group in Los Angeles. Hoaxers, commissioned by Portland Center Stage (Oregon), a percussion-based experimental rock opera about the daughter of an inveterate "hoaxer" of supernatural phenomena. I'm also researching a commission from the Public Theatre in NYC and Oregon Shakespeare Festival's American Revolutions Project for a play about the history of guns in America. As for poetry, I'm currently revising Strange City, a collection written in response to my wife's treatment for cancer, and my own; and composing Survivors Notebook, a book of prose poems about life after treatment.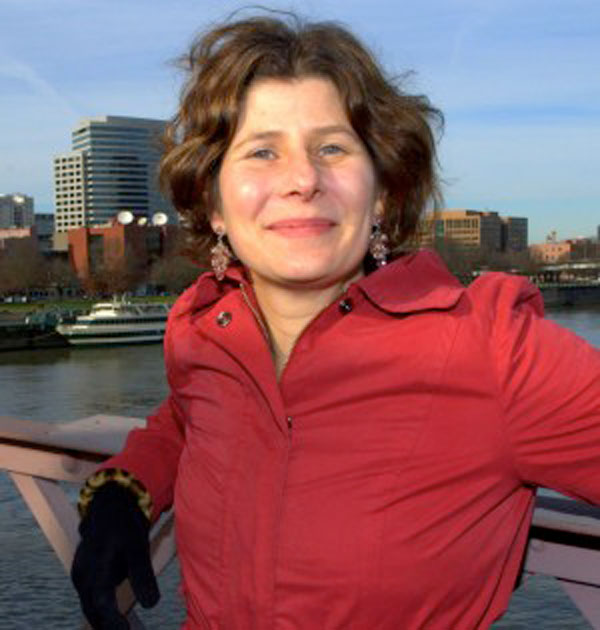 Andrea Stolowitz
Playwright
"I am currently working on a commission from Artists Repertory Theatre called REFUGEE RADIO about the current world-wide refugee crisis. I expect the trip will influence my thinking on this topic through understanding the history of Israel as a state for refugees and understanding the status of the Palestinians. I am also working on a play called PSYCHIC UTOPIA about "spiritual seekers" and those who have the desire to find larger universal truths. I imagine the history of the holy land has some true seeker stories. Overall I think the trip will give me the time and space to understand the spiritual side of the unique world of the holy land.
Andrea Stolowitz's plays have been developed and presented nationally and internationally at theaters such as The Long Wharf, The Old Globe, The Cherry Lane, and New York Stage and Film. The LA Times calls her work "heartbreaking" and the Orange County Register characterizes her approach as a "brave refusal to sugarcoat issues and tough decisions."

Andrea's latest play Berlin Diary premiered at English Theater Berlin/International Performing Arts Center in October 2016 and Portland's Hand2Mouth Theatre Company in April 2017. The play was developed at PlayPenn/The National Museum of American Jewish History and the New Harmony Project.

A recipient of Artists Repertory Theater's $25,000 Fowler/Levin prize, Andrea premiered her play Ithaka at the theatre in 2013. The play had its mid-west premiere in Chicago in 2014 at InFusion Theater and its Canada premiere in May 2016. The play won the 2015 Oregon Book Award in Drama judged by Naomi Iizuka.

Andrea's play Antarktikos also won the Oregon Book Award for Drama and was published in July 2013 in TheatreForum magazine. The play world-premiered at The Pittsburgh Playhouse. It was nominated for the Susan Smith Blackburn Prize and received a 2015 Kilroy's List Honorable Mention.

Knowing Cairo world-premiered at the Old Globe Theatre, which earned San Diego's "Billie" Best New Play Award and an LA Times' Critic's Pick. It is published by Playscripts Inc. and continues to be produced nationally and internationally.

Andrea works as a collaborating writer with the award-winning devised theater company Hand2Mouth . Her current collaboration Pep Talk is touring nationally. The San Francisco Chronicle says "The genius of 'Pep Talk' is that it is at once a collective unburdening…in the way the best drama has always been, while also being very funny and self-aware." She is currently at work on their latest collaboration Psychic Utopia.

Andrea is the Lacroute Playwright-in-Residence at Artists Repertory Theater where she has just received a new play commission. She is a member of New Dramatists class of 2024 and a core member at The Playwrights Center.

An MFA playwriting alumna of UC-San Diego, Andrea has served on the faculties at Willamette University, The University of Portland, Duke University and UC-San Diego.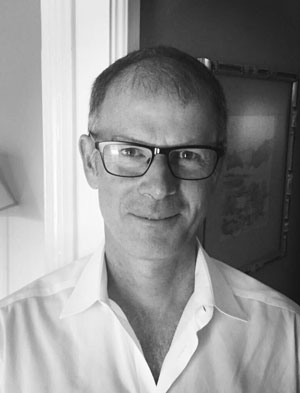 Rod Barr
Screen / TV Writer, Novelist
"For the last year or so, I have been working on a movie script about Mary, the mother of Jesus. The script is currently scheduled to shoot early next year, and I know my upcoming trip to Israel will influence not only all upcoming drafts, but also my ability to contribute powerfully on the set. I've been developing a thriller set in Jerusalem for some years now, and fully expect my trip to add dimension and reality to this project. But — truth be told — I am most excited about the possibility of this trip inspiring entirely new projects, and taking my work, and my heart, in unexpected directions."
Rod Barr graduated Phi Beta Kappa from Princeton University, where he won numerous creative writing awards and graduated Magna Cum Laude from the English Department. He studied creative writing under Joyce Carol Oates.
After college, Rod worked two seasons in Antarctica (one at South Pole Station, one at McMurdo Station… and yes, it's cold), then explored the world (New Zealand, Australia, Thailand, China, Tibet, Japan, Russia, Turkey, Morocco, all through Europe). When he returned to the States, Rod won a Massachusetts Arts Grant for short story writing, and wrote 10 books in the Alden All Stars sports series of novels for 8-12 year old boys, published by Puffin. He also wrote for the Sweet Valley High series for girls. Rod then used his writing skills to transition into the video game industry. For years, he ran his own video game design and production firm, and created many games and character universes for a variety of platforms, including Nintendo, Sega, and PC. During this time he also partnered with Stan Lee on TV, toy and movie properties. In 2000, Rod became President of Tremor Entertainment, a publicly-traded video game development company. He ran all business and creative aspects of the company, and landed major contracts with Sega, Microsoft and other significant players. But, after three years, he found himself dealing exclusively with spreadsheets and realized he had gotten away from his true love: writing. So he left Tremor and set out to write movies. Since then, Rod has sold two original scripts to Route One Films – one a high-powered action script, Safe Distance, and one a family story, Family Treasure. In 2011, he sold a TV pilot to MRC — a one-hour drama called Higher Powers. In 2013, he adapted a WWII memoir, The Shadow of His Wings, for Metanoia Films. Since then, he and director Alejandro Monteverde (Bella, Little Boy) have completed an original supernatural thriller called The Hidden Ones (currently out to NetFlix); a drama called The Sound of Freedom, based on the true-life story of Tim Ballard (founder of O.U.R., a non-profit that rescues children from sex slavery); and a historical drama based on the life of Mary, the mother of Jesus, currently called, not surprisingly, Mary. The development of these last three projects was funded through Metanoia Films. On the TV side, Rod and Alejandro are developing a number of TV shows, including Duelers (a historical drama involving great true-life duels) and Drag (a show about the intersection of Chicano culture and illegal drag-racing in 1970 Los Angeles). On the work-for-hire side, Rod completed page-1 rewrites of The Fourth Magi (a four quadrant animated movie) for Lightstream Pictures; Mistral (a magical romantic comedy) for Matt Williams and Wind Dancer Films; and Indigo (a Twilight-style supernatural drama) for Sheryl Leach Productions. He also wrote Kismet (an adaptation of a WWII holocaust survivor's memoir) for producer Julie Stern. Rod has also completed six spec scripts. Sparrow – a historical bio-pic about forgotten jazz legend Boyce Brown – is due to shoot in 2017 with director Scott Palazzo. Rip – a contemporary romantic comedy based on the Rip Van Winkle legend – went out to the studios through Wendy Finerman, Cruise/Wagner and John Davis. Bootlegger's Wife, his latest spec, is an explosive Prohibition-era drama and is going out soon.
Jerusalem Journal Subscription
Subscribe to our Jerusalem Journal email here!